My Favorite Artists

Madonna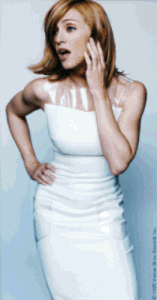 Something To Remember
Madonna is the second artist whose music I ever got interested in. It was back in 1994 when she released her "Bedtime Stories" album when I fell in love with her. After watching the videos for songs such as "Secret", "Take A Bow", "Human Nature" and "Bedtime Story" I decided to go and buy the CD. Five years later, I have almost all her albums. Since then, she's been very busy, she starred in the epic movie "EVITA" based on the broadway musical of the same title which earned her the Best Actress In a Musical or Comedy Golden Globe award and an Academy Award for Best Original Song; she gave birth to a beautiful baby girl named Lourdes Maria, who is 2 years old already. She's ruled the charts worlwide with hits such as "You Must Love Me", a re-worked "Don't Cry For Me Argentina", "Another Suitcase In Another Hall" and "Buenos Aires". Madonna's latest album, "Ray Of Light" is certainly her most stunning piece of work since 1994's "Erotica". "Ray Of Light" spawned some amazing hits like "Frozen, "Ray Of Light", "The Power Of Good-Bye", "Nothing Really Matters" and "Drowned World/Substitute For Love", won her 4 Grammy Awards and sold over 15 million records world-wide. Madonna's latest single, "Beautiful Stranger" is riding high on every chart across the world! Madonna is the ultimate diva!
Madonna's music is an inspiration: her lyrics are smart, witty, sexy and fun; her voice is amazing and her performances are superb. She fails to bore her fan base, and she's always one step beyond everyone. She's also a smart bussiness woman, she has her own record label, Maverick, which is one of the most sucessful artist-owned labels, as it signed acts such as Prodigy, Alanis Morissette, Me'Shell Neodeocello and Deftones.


George Michael
Older picture
George Michael is the smartest male singer-songwriter the music industry has ever produced. The first CD I ever bought from him was the "Older" album after watching the video for "Fastlove". I am hooked ever since-- his writing is so touching, his lyrics are amazing, he manages to capture feelings in such beautiful ways, he's undescribable. I now have his multi-platinum debut album, "Faith", the less commercial follow-up "Listen Without Prejudice", which is to my judgement, a masterpiece, the "Five Live" EP with performances from the Freddy Mercury Tribute Concert, and of course, his latest new-material effort, "Older". My personal life has been dramatically affected with Mr. Michael's music, mostly because how much I relate to his lyrics. He's also a huge chart-topper, "Faith" won 6 Grammy Awards in 1987, including Best Album Of The Year, he's had several #1 singles worldwide, he keeps releasing great singles from his albums and being equally succesful. Even though in the US he's not a succesful as he was in the past, in Europe, he's even bigger now, with 7 Top Three singles in a row (last was "Outside"), numerous MTV Video Awards and Brit Awards and with a huge fan base. He also recorded an MTV Unplugged a couple of years ago. He's also a bussinesman, owns a record label called Aegean Records. Sony released a new Wham! (George's band previous to his solo career) greatest hist album, called "If You Were There" with new versions of classics like "Everything She Wants" and "I'm Your Man". More recently, George released his Greatest Hits compilation, "Ladies & Gentleman - The Best Of", which broke records in the UK and sold amazingly well everywhere in the world, except for the US where it did poorly. Oh well, too bad for them yankees.

Björk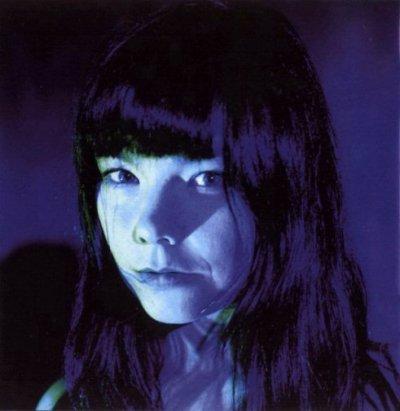 Telegram picture
Björk is wonderful. I first got interested in her after listening to "Army Of Me", followed by the orquestrated "It's Oh So Quiet", and "Hyper-Ballad". I bought "Post" and I must say she cast a spell on me. Some may say her voice is not melodic and her lyrics are strange, but the more I listen to her, the more I like her. Her first album, appropiately named "Debut" was a breakthrough record for the little icelandic princess. With equally ground-breaking amazing videos, such as "Human Behaviour", "Venus As A Boy", "Army Of Me", "Isobel", "It's Oh So Quiet", "Hyper-Ballad", "Possibly Maybe", "Joga" and "All Is Full Of Love" (totally stunning!) she's always pushing the envelope. She is "a little white china doll" who amazes me profoundly.
Her critically acclaimed latest album, "Homogenic" defies her previous work with Neelle Hooper, who had produced her 2 previous albums, because this time she's all by herself on the production area.

Tori Amos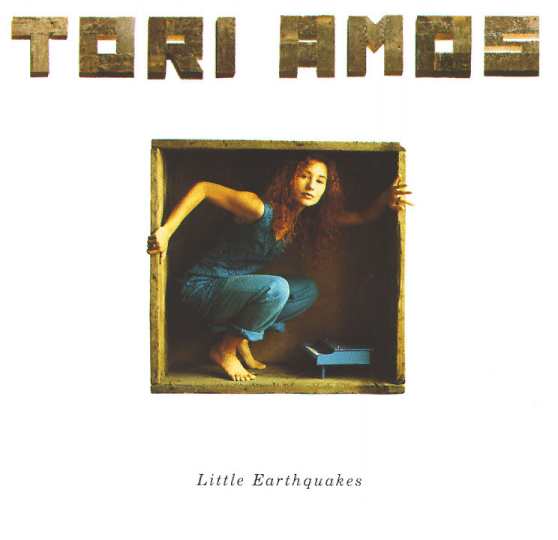 Little Earthquakes cover
Tori Amos. If you knew me you would say I'm obssesed with her. And you would be right. "Boys For Pele" is an epic materpiece, "Little Earthquakes" is easily one of the best albums (not to mention the best debut ever) in the history of music and her second album, "Under The Pink" and it is truly an amazing album, my personal favorite. Her latest album, "from the choirgirl hotel" is a continuation of her amazing work... Tori is a Goddess.
Songs like "Crucify", "Silent All These Years", "Winter", "Precious Things", "Me And A Gun", "God", "Cornflake Girl", "The Waitress", "Icicle", "Caught A Lite Sneeze", "Blood Roses", "Hey Jupiter", "Talula", "Professional Widow", "In The Springtime Of His Voodoo", "Not The Red Baron", "Marianne", "Spark" and all the rest are reasons of why I like her and her music so much. Each and every song is utterly special... there's not a single bad one. I don't have words to describe how deeply I feel about her music.
As a tribute to her and her music, I've created CORNFLAKE CITY, which contains lyrics, pictures and links to my favorite Tori websites. Check it out here.

Miss Janet is one heck of a singer and dancer. Her songs are extremely fun, sexy and some of them have some serious subjects related to them. I was first introduced to her work on "Design Of A Decade 1986-1996", her greatest hits package up to 1996. Then, I bought her amazing work, "The Velvet Rope". It's an outstanding album. Songs such as "Go Deep", "Empty", "What About", "Together Again", "I Get Lonely", "My Need", "Rope Burn" and the others are difinite highlites. Her previous studio album, 1993's "janet." is a landmark album from JJ. "If" (the best dance song ever!), "Anytime, Anyplace", "That's The Way Love Goes", "What'll I Do", "Where Are You Now", "New Agenda" and every single track on janet. is fun, sexy and funky. Likewise, 1989's "Rhythm Nation" is an excellent mix of ballads and energetic dance tracks. And last but not least, her incredible 1986 album, "Control". Go on Miss Janet!

Fiona Apple


Fiona Apple
Fiona Apple is unique. Her voice is sultry, heartfelt, raw and real. Her music is an inspiration. Her lyrics are smart, touching and poetic. "Tidal", her debut album is nothing but a reflection of her truly amazing personality. Song about love, dissapointment, rage, and inner feelings that get to your heart. "Sleep To Dream", "Criminal", "Shadowboxer, "Never Is A Promise" and every single song on her album are astonishing. She touches those subjects everyone deals with, the music and lyrics complement her voice. She is the newest and most enchanting of all those new singer-songwrites that are constantly popping up from everywhere.
Fleetwood Mac


The Dance album cover
Fleetwood Mac is my favorite band and definitely one of my favorite artists. I've said it once and I will say it again, if I had to pick out the best album to come out in 1997, "The Dance" would easily be my definite choice. It is simply one of the best albums I've heard in years. Stevie Nicks, Lindsey Buckingham, Christine McVie, John McVie and Mick Fleetwood are rock institutions on their own. Their 1977 album, "Rumours" has sold more than 40 million copies worldwide and is the third best-selling album of all-time. That's gotta mean something. But there was history prior to "Rumours", Fleetwood Mac was created in 1967 by Peter Green. The band went through an endless process of changing and searching, creation of intense and truthful work, but then the most memorable line-up of the band joined forces in 1974, and in 1975, "Fleetwood Mac" (otherwise known as the White Album) came out. It was the first of the masterpieces that would follow it up. It contained such classics as "Rhiannon", "Landslide", "I'm So Afraid", and "Say You Love Me", but the whole album is essential. Off "Rumours" came songs like "Go Your Own Way" (which should be rewarded as one of the songs that helped to build rock 'n' roll as we know it), "Dreams" (Fleetwood Mac's first and only #1 single in the US), "Don't Stop" (Bill Clinton's campaign theme), "You Make Loving Fun" (Christine McVie at her best), "Songbird" (which will go down in history as one of the most beautiful songs ever written and sung by anybody), "Gold Dust Woman" (one of Stevie Nicks' most enchanting songs) and "The Chain" (powerfully intense). The album is easily one of the best albums in the history of music and definitely the best of the 70s. Then came "Tusk", a double album that was conceived as a departure from Fleetwood Mac's classic pop/rock sound to a more experimental one... and that didn't dissapoint at all. The album is simply excellent. "Sara", "Tusk", "Sisters Of The Moon", "Angel" and all the other songs prove it. "Live", "Mirage" (which includes "Gypsy", one of my favorite FM songs) and "Tango In The Night" (with songs like "Little Lies", "Big Love" and "Seven Wonders") came out in 1981, 1982 and 1987, respectively. They all continued Fleetwood Mac's tradition of excellent music-making and craft. The famous line-up broke up shortly before going on tour for the "Tango In The Night" album, and Rick Vito and Billy Burnette replaced Lindsey Buckingham..., a Greatest Hits album was released in 1988 (with 2 new songs, McVie's "As Long As You Follow" and Nicks' "No Questions Asked") and in 1990, "Behind The Mask" came out. After the tour for this album was over, Stevie Nicks left the band after having problems with Mick Fleetwood, who wouldn't let her use the song she gave to her mother, Barbara Nicks, called "Silver Springs", which had been left off the "Rumours" album and put as a b-side to the "Go Your Own Way" single. There is history behind this song... Stevie wrote it song about her troubled relationship with Lindsey. It was supposed to be included on "Rumours", but they had to leave it out for technical reasons and put "I Don't Want To Know" (another Stevie Nicks song) in its place. Stevie was extremely mad because of this decision. It was ironic for it to come out on the "Go Your Own Way" single, being that Lindsey's own song about his relationship with Stevie. So, a few years later, Stevie wanted the song to be included on her solo career greatest hits album, 1990's "Timespace: The Best Of Stevie Nicks", but Mick Fleetwood refused to give her the rights to put it on her album because he wanted to include it on a box set compilation that would come out a couple of years later. Stevie left the band disgusted. In 1992, the fore-mentioned 4CD Boxed Set called "The Chain" came out as a compilation of Fleetwood Mac's 25-year career. It also contained some new songs, such as "Paper Doll", "Love Shines", and "Make Me A Mask" and, of course, "Silver Springs". In 1995, the remaining members of the band, Mick Fleetwood, Christine McVie and John McVie were joined by 3 new members and created "Time". But it was in 1997, 20 years after "Rumours" became everyone's favorite album, that the band as we remember it, with Stevie Nicks and Lindsey Buckingham got back together again. And then, finally, the much disputed song, "Silver Springs", became a hit on "The Dance", which started as a MTV special, and then became a hugely successful live album, a home video and a tour. It is also a gift from the gods. And shall they rock on forever.
Stevie Nicks


The stunning Stevie Nicks
Either as a part of Fleetwood Mac or on her own, Stevie Nicks is enchanting. Her first solo record, "Bella Donna" came out in 1981 and it was an instant hit. It spawned such hit singles as "Leather And Lace", "Stop Draggin' My Heart Around" (duet with Tom Petty and the Heartbreakers), "Edge Of Seventeen" and "After The Glitter Fades". It was the first of a series of excellent and successful work. "The Wild Heart" came out in 1983 and it contained Stevie Nicks' most famous song as a solo artist, "Stand Back". Other equally great songs such as "If Anyone Falls" and "Nightbird" were also on this album. "Rock A Little" came out in 1985 and it was a hit. "Talk To Me", "I Can't Wait"and the gorgeous "Has Anyone Ever Written Anything For You" were among the highlights. "The Other Side Of The Mirror" came out in 1989 with songs like "Whole Lotta Trouble"and the hit single, "Rooms On Fire". "Timespace: The Best Of Stevie Nicks" compiled her hit singles up to 1990 and also brought us more new songs, such as "Desert Angel", "Sometimes It's A Bitch" and "Love's A Hard Game To Play". In 1994, "Street Angel" came with yet more great songs: "Blue Denim", "Destiny" and "Street Angel". In 1998, after the Fleetwood Mac reunion tour, "The Dance", was over, Stevie started working on a 3CD Boxed Set called "Enchanted". In April/98 the much-awaited boxed set came out and Stevie toured the country. Her music and talents are unstoppable. Stevie is one of rock's original divas... and she deserves to be called a goddess. Rock on, Gold Dust Woman.
Other Artists
Some of my other favorite artist are:
The Cranberries, Mariah Carey, Alanis Morissette, Paula Cole, Sarah McLachlan, Annie Lennox, Garbage, ABBA, Erykah Badu, Mary J. Blige, Depeche Mode, Sheryl Crow, Celine Dion, En Vogue, Everything But The Girl, Jewel, k.d. Lang, Radiohead, Roxette, Simply Red, Smashing Pumpkins, Lisa Stansfield, Suzanne Vega, Wham!, Ace Of Base, Eurythmics, Whitney Houston, Nine Inch Nails, Natalie Merchant, Kate Bush, Portishead, and virtually ever new artists that pops up that I like, there are many new ones that are not listed here!.


---
If you have any comments, suggestions or just want to say hello, drop me (Giovanni Mantilla) a line at giofabman@hotmail.com