Features Of The Moment

This is the page where you can find my comments, reviews and opinions about the new music I'm constantly listening to.

Title: Ray Of Light
Artist: Madonna
Genre: Pop/Dance/Electronica
Label: Maverick/Warner Bros.
Rating: 5 (out of 5)
Madonna is back. And she's better than ever. All mysticism apart, this record rules. Madonna's vocals are at their best, her lyrical side just keeps getting better and better, and the production on this CD is marvelous. William Orbit did a great job, and Madonna obviously didn't sit on her rear-end after Evita. Most of the songs on this album are bound to be remembered as Madonna's best, "Frozen", the captivating ballad, "Ray Of Light", the surprising techno, fake-opera-ish breakthrough song, "Shanti/Ashtangi", the groovy sanscrit poem, and others like "Skin", "Sky Fits Heaven", "Little Star", "Mer Girl", "Candy Perfume Girl", "Swim" and "Drowned World/Substitute For Love" all show that Madonna is the reigning diva.

Recommended Tracks: All.
Title: The Dance
Artist: Fleetwood Mac
Genre: Pop/Rock
Label: Warner/Reprise
Rating: 5 (out of 5)




This record is divine. If I had to pick my favorite album released in 1997, this one would be my immediate choice. Fleetwood Mac are talented, passionate, interesting, funny, romantic and touching all at the same time. This record has everything a hard-core Fleetwood Mac would want. It features most of her hits plus 4 new songs. The songs are as fresh and full-of-life as they've ever been. From Stevie Nicks' enchanting lyrics and vocals that are featured in all of her songs on this album, most notably on "Rhiannon", "Dreams", "Landslide" and on the most beautiful song I've heard in years, "Silver Springs". "Sweet Girl" is just an example of Nicks' talents. Lindsey Buckingham's voice is haunting and powerful, and all of his songs here show us so, from the break-up song "Go Your Own Way", to "Tusk", "Big Love" and "I'm So Afraid". Christine McVie's songs are charmingly beautiful... her voice is simply captivating and delicious. "Everywhere", "Say You Love Me", "You Make Loving Fun" and all her songs, including those not released on this CD, but performed during this concert, like"Songbird" are gems that are boud to be cherished forever. Mick Fleetwood's charismatic and virtuos drum-playing and John McVie's impressive bass round up the fivesome, and they're as alive as they've never been. Wonderful. Long live the Mac!

Recommended Tracks: All.
Title: The Fat Of The Land
Artist: Prodigy
Genre: Electronica
Label: Maverick/ Warner Bros.
Rating: 3 (out of 5)

It is not a secret for anyone, anywhere, anymore. Prodigy is the latest big thing that electronica has given us. Let's hear some facts first: The Fat Of The Land is a hit. It debuted #1 in both US and UK charts, as well as in charts of a lot of countries all around the world. It's still selling like hot cake, as it's still in the Top 30 in the US and in the UK. I've heard everyone, from supermodel Naomi Campbell to one of my punky friends say they love them. But after all this, how much credit does the music gets here?. Well, to be honest, not too much. First, I'd like to make clear, this is NOT a bad record, not at all. For starters, this is a must for electronica hard-core fans, definitely. But unfortunately, it isn't for a whole lot of other people. This album has several high points, "Breathe" is indeed one of the best "songs" to come out of the british scene this year. It combines techno beats, psychotic lyrics and rock guitars wisely. "Firestarter", "Serial Thrilla" and "Mindfields" are other great songs that manage to combine the same ingredients with a good result. But there are some low points in the album that will leave you thinking if they should really get they attention they are getting nowadays. "Smack My Bitch Up" has such simple and repetitive "lyrics" that after a minute of hearing the same thing, they become obnoxious and stupid. That's yet another low point in the album, lyrical depth is nowhere to find. I've already said that pshycotic lyrics work --and they do, maybe once or twice, but this album is filled up with plenty of non-sense lyrics that will leave you wondering whether or not to sing along. Also, have in mind that this album fails to produce that ambient-kinda feeling that makes you think you're on a trip rather that just listening, unlike Chemical Brothers or Sneaker Pimps' music does. But, in the end, this album deserves to be listened to, remember, it's always a good thing to get to listen to Kula Shaker's front man, Crispian Mills singing the lines for "Narayan" and you'll get to listen to the lady from Republica, Saffron, "singing" along with lead singer Keith Flint on "Fuel My Fire". Check this out and find out if it's your thing, after all, not everyone can like their Oasis-ish "if-you-don't-like-us-then-f***-off" atittude, and even their boss, Madonna, knows that very well.

Recommended tracks: Breathe, Firestarter, Serial Thrilla, Mindfields, Narayan, Fuel My Fire.
---
Title: Ok Computer
Artist: Radiohead
Genre: Rock/Pop
Label: Capitol
Rating: 5 (out of 5)

It took a third album for british rockers, Radiohead, to find recognition worth their efforts. This album features lead singer Thom Yorke's hauting and beautiful-- but barely understandable vocals. The arrangements will make this feel like a travel for you, starting from the somewhat spacial "Airbag", followed by the melancholic and angered first single of the record, "Paranoic Android", which has several rythm changes throughout the six-minute-and-half song. The most remarkable vocals on the album can be found in "Exit Music(For A Film)" where you can almost hear Yorke breathing. "Subterranean Homesick Alien" is basically a trip-like song, with several electronic background arrangements. "Karma Police" is the true conventional song in the album, with some cynically smart lyrics: "Karma Police arrest this girl/Her Hitler haido is making me feel ill". The unconventional twist of the album comes with "Fitter Happier", a minute-and-half "song" that consists of a computer-generated voice speaking.
The intelligence this album has been produced with, makes it crearly a great contender for album of the year-- whatever is.

Recommended tracks: Subterranean Homesick Alien, Paranoid Android, Karma Police, Let Dowm, Exit Music (For A Film).

---
Title: Tidal
Artist: Fiona Apple
Genre: Jazz/Blues
Label: Sony/WORK Group
Rating: 5 (out of 5)

This is one BIG debut album for a petit new singer. Fiona Apple has been described in so many different ways, by so many different people, that in the end, whatever you've heard you can't be sure it's true. But try not to listen to what they say, better listen to what she has to say on every single track on Tidal. Fiona's lyrics are raw and heartfelt, and you can notice that from the very first track of the album, "Sleep To Dream", on which she recriminates a past-time lover the infamous way he treated her, "First you run like a fool/Just to be at my side/And now you run like a fool/But you just run to a hide/And I can't abide", but yet she's freeing herself from those painful thoughts, she ain't asking him to come back. A similar, but different track on the album, is "Criminal", that potraits a girl who wants to be freed from her sins, again in a love relationship, and she wants to pay and be relieved of those actions. Most of the tracks on the album are about relationships, and all of them are told in a raw but yet healthy way. After all, the feelings that hurt the most are those who are not revealed and taken to the outside. Things only get better and better further in the album, with tracks like "The First Taste", that adds the danceable latin-esque flavor to the record, "Never Is A Promise", a breathtaking ballad that features perhaps the best vocal moments of Ms. Apple on the whole album. Another thing to have in mind, every track on this record is special and should be treated that way. This is not an album to listen in an open room with people surrounding you, Fiona's haunting voice and smart lyrics need and deserve to be taken more seriously.
If Fiona's in-your-face lyrics may remind some of Tori Amos, her voice will remind you of the likes of Billie Holiday and Ella Fitzgerald. The strings are beautifully arranged. One thing is sure, this album you will leave you longing for something, and that is, a next album from Fiona.

Recommended tracks: Sleep To Dream, Shadowboxer, The First Taste, Criminal, Never Is A Promise, Carrion, Slow Like Honey.
---
Title: Dig Your Own Hole
Artist: The Chemical Brothers
Genre: Electronica
Label: Astralwerks
Rating: 4 (out of 5)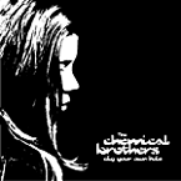 Dig Your Own Hole, The Chemical Brothers' second album, tries to find its way between the overwhelming trend of new releases of mostly new bands, that have and keep popping up in the american scene. Luckily, it doesn't get lost. Though being known-- and marketed-- as a techno-ambient, or simply electronic band, if you get a hold on this album you will notice how superflous those adjectives get when describing Dig Your Own Hole. As most of the reviewers have affirmed, this is a rock album. Sure, it's only 2 guys making music, but still, these guys manage to bring us a delightful showing of what 2 guys can do when they know what it is they are doing. Yes, you'll find heavy sampling here, but this time it's used in a radical and smarter way than most of the latest hip-hop chartbreaking hits around.
Recommended tracks: Block Rockin' Beats, Setting Sun, Electrobank, Where Do I Begin, Dig Your Own Hole.
---
Title: Lisa Stansfield
Artist: Lisa Stansfield
Genre: R&B/Soul
Label: Arista
Rating: 5 (out of 5)

After 6 years of not releasing new material-- in the US--, Lisa Stansfield is the best comeback album the british songstress could have pulled out. The last time around, about how she decided not to release So Natural, her third album everywhere in the world, she says "(...) it just didn't fit with was going on...". Now, with this new release, we suppose it does fit. Her voice is at its peak, and her lyrics are the cheesiest they've ever been-- and that's NOT a bad thing here, believe me. Her cover of Barry White's "Never, Never Gonna Give You Up" is excellent. On "The Real Thing", her first single in the UK, her silky voice and up-lifting lyrics tell us to nevermind everything that's keeping us from feeling and thinking the way we want and you go ahead and be "the real thing". By the end of the song she says, "What you do to me baby/keep doing it, keep doing it to me". Indeed Lisa, keep doing what you do, 'cause you're damn good at it.
Recommended tracks: The Real Thing, Never Never Gonna Give You Up, You Know How To Love Me, Never Gonna Fall, The Very Thought Of You.


All reviews written by Giovanni Mantilla.
---
Feel free to send me your comments, thoughts or reviews on any of the albums featured on this page, and please do it at giofabman@hotmail.com
---
This page hosted by

Get your own Free Home Page
---